The Retail Email Blog monitors the email marketing campaigns of more than 100 top online retailers. Here are highlights from my inbox this morning:
Toys "R" Us, 10/27 —

★

FREE $10 Gift Card! Buy 1 Get 1 40% OFF Video Games & Skylanders
★
Many products have different uses or are useful at different times of the year. It's up to marketers to make sure that their customers realize the versatility of their products and to inspire them to explore alternative uses. Home improvement products are probably the ultimate in terms of the potential for inspiration, but in this email, Toys "R" Us does some creative rebranding .They promote Halloween costumes as "action role play," essentially taking what many think of as a seasonal product and making it a year-round purchase. It reminds me a bit of a recent Brookstone email where they made a product relevant both during Halloween and Christmas (see
Oct. 16 AM Inbox
).
Sony, 10/26 — New VAIO Touchscreen PCs with Windows 8 Are Here | Shop VAIO Duo Laptop + Tablet In One
Long-time readers know I love functional uses of animated gifs, particularly product demonstrations. This one from Sony is great.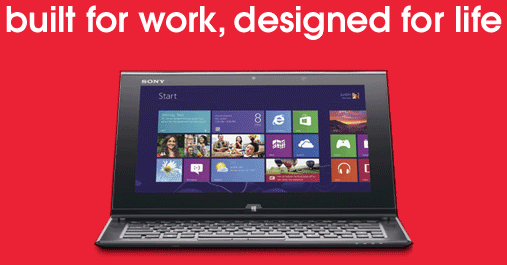 Home Depot, 10/26 — DIYers Are Talking. Join Them.
Many retailers are promoting a slew of social networks in a single email nowadays. What makes this Home Depot email notable is that it has great texture with the torn paper and staples—plus they use the staples really creatively to direct the eye in an S-curve from one call-to-action to another.
SUBJECTIVITY SCANNER: Select noteworthy subject lines
Brookstone, 10/26 — STORM ALERT! Get your emergency power before the storm hits
Walgreens, 10/28 — Be Prepared for Hurricane Sandy
Newegg, 10/26 — Get Windows 8 HERE—BONUS Software & $20 Promo Credit + Save More on Great UPGRADE Deals!
TigerDirect, 10/26 — 72 Hour Windows 8 Launch Event: $579 Sony i5 Laptop, PCs, Tablets, & More
OfficeMax, 10/26 — 2 Days Left to Save 20% + Windows 8 Is Here
Staples, 10/26 — Your 20% off coupon ends soon. Plus Windows 8 is here!
Toys "R" Us, 10/28 — It's Here! The Great Big Toys"R"Us Book! Huge Deals, Free Offers & More!
Abercrombie & Fitch, 10/27 — It's finally here! All-new styles have arrived for Christmas!
ShopNBC, 10/26 — Holiday Diamond Day + 6 ValuePay
eBags, 10/28 — Give. Get. Love.
Urban Outfitters, 10/26 — Exclusive Sneak Peek: Men's Holiday 2012
Macy's, 10/26 — World of Ralph Lauren: Holiday gift guide + Free Shipping!
Disney Store, 10/26 — Save big on toys with this online preview!
Target, 10/26 — Save 20% on all clothing, plus new holiday toys and up & up coupons.
Avon, 10/28 — Save 50% on Glamorous Holiday Looks
JCPenney, 10/26 — Ready For Sweater Weather
J. Jill, 10/26 — Layer with silk & merino.
Eddie Bauer, 10/27 — Flannel and Down for Warm Winter Nights. Plus, Free Shipping.
Orvis, 10/28 — Find warm prices on cold-weather styles for him and her now.
Spiegel, 10/28 — We've Got A New Look! Check Out The ALL-NEW Spiegel.com!
Montgomery Ward, 10/26 — New at Wards: Mobile Site, Faster Shopping and More
Sephora, 10/27 — News. Inspiration. How-to's.
_____________________